In case you didn't know this, babies are expensive (especially your first one).  There is so much stuff you have to get.  There are hospital bills.  There is the cost for adding them to your insurance.  There is a ton of stuff that you need once they are here.  When you think about it, it is easy to freak out.  Angela and I have a goal for her not to return to work full-time.  Thinking about this and crunching numbers in my head, I have immediately been overwhelmed.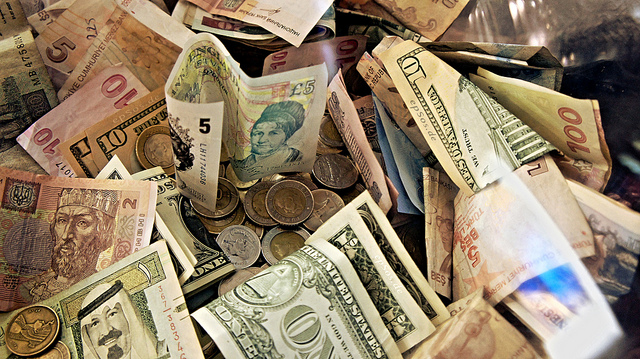 I know what you are thinking, being a Youth Director for the YMCA means I am raking in the dough, but unfortunately that is not the case (I'm not complaining, but I don't have a second job just for fun).  Now that Zeke is here, all the numbers are becoming more real to me.
I'd like to tell you that I've have handled it in a super Godly way and have had complete trust in God the whole time, but that is not the case.  I've worried about it and thought of a million different ways to bring in more money.  I've thought about how I can hustle at the Y and set myself up for a promotion.  I've thought about how I can finish an e-book and get it out there for people to buy.  I've thought about (and actually started pursuing) how I could sell ads on my website it bring in some money.  I almost picked up a second summer job in Durham to make extra money.  There have been a lot of thoughts running through my head.
One night, Angela and I were talking and I was telling her about my worries.  Her response was simple, "God has taken care of us in the past and He will take care of us now."  I wanted to respond with, "Yeah but *insert excuse here*," but instead I just let it sink in.  God has taken care of me in the past but my head didn't want to believe that.
I began to think about how God has already taken care of us.  Like I said earlier, when you have your first kid there is a lot of stuff you need.  A lot of that stuff is expensive.  Angela and I are blessed enough to have most of the stuff we needed given to us.  We have an incredible network of friends and family that has taken care of us.  As I thought of this, I began to think further back.
A few years ago, I went on a mission trip to Ecuador.  2 weeks before the trip, I still owed $600 for the trip.  I had already asked all my friends and family and it was too late to set up any fundraisers.  Since I knew there was no way I could raise the money, I prayed and asked God what to.  God told me to give $100 to my mission trip.  Not exactly the answer I was expecting.  I was a little confused because I also needed money to pay my bills.  To go on the trip I would be out of work for 2 ½ weeks (and it wasn't paid time off).  Rather than doubt, I did what God asked, and gave the money.  3 days later, I receive a call from my pastor telling me that I had received enough money to cover my trip.  I don't know where it came from, but God took care of me.
Remembering how God has taken care of me in the past makes it a lot easier for me to believe He will take care of me now.  This isn't to say that Angela and I are not looking at our budget and making the necessary adjustments, but I am not going to allow myself to live in fear that tells me we won't have enough.  Babies are expensive, but God is big enough to supply more than I need.
until next time…
Photo courtesy of epSos.de