The month before Zeke was born I decided to read the book of Ezekiel.  I figured it would be a fun thing to do since he would share the name.  I'd love to act all super-spiritual (actually I wouldn't, I'll leave that to the Starbucks holiday cup people) but we did not name him after the book of the Bible.  Angela and I liked the way Ezekiel sounded and really liked the meaning (God strengthens).  As I was reading through Ezekiel it started to get me down.  The book of Ezekiel has a lot of doom and gloom, turn or burn, be sanctified or french fried kind of stuff in it.  I started to think maybe it was a bad idea for me to read through it before he was born.  It wasn't really getting me excited like I thought it would.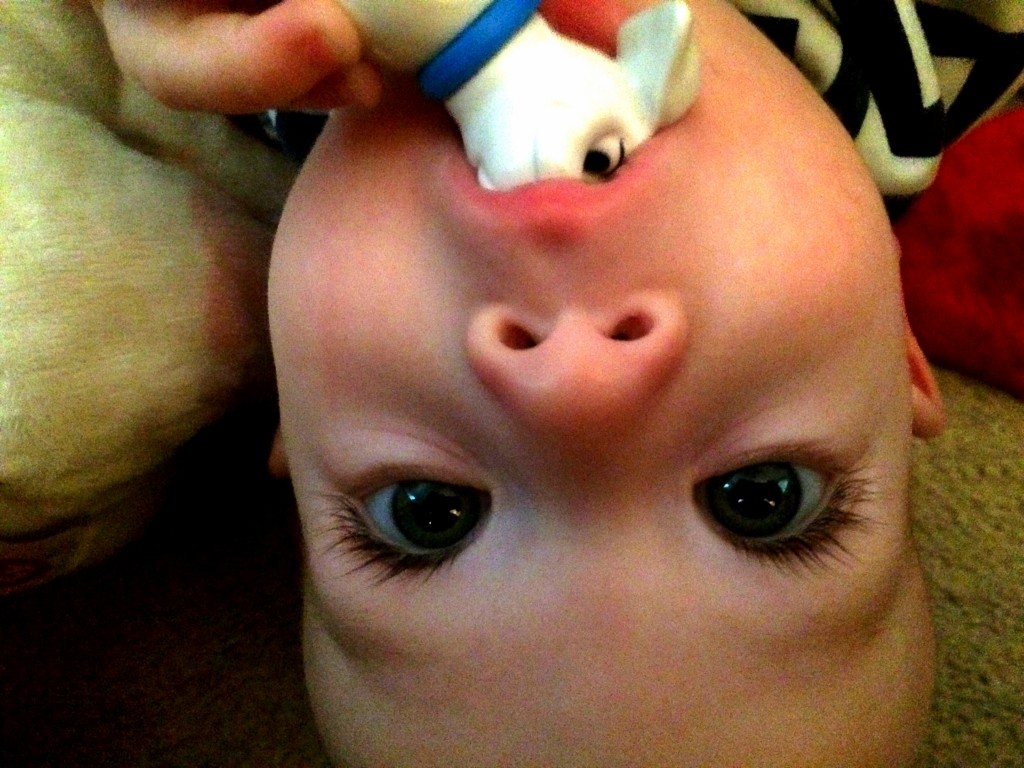 In spite of this, I decided to keep plugging away and finish the book.  When I finished the book I decided to reflect on it and see if there was anything I could salvage out of what I thought was a good idea.  God did like He normally does.  He showed me how I was looking at everything the wrong way.  As I was reading through Ezekiel, I was focusing on the messages he had for the people of Israel.  I really should have looked at the man delivering the message.  With such an awesome name, I hope Ezekiel lives up the prophet in 3 ways.
He is someone who hears the voice of God

Ezekiel 2:2 says, "

The Spirit came into me as he spoke, and he set me on my feet. I listened carefully to his words.

" The whole book of Ezekiel is about God telling him things to tell the people.  He knew exactly what God wanted him to do because he could clearly hear Gods voice.

He wasn't afraid to deliver God's message no matter what it was

Ezekiel had to deliver some crazy messages to the Israelites.  God knew they wouldn't be easily to deliver.  In Ezekiel 2:6-7a God tells Ezekiel, "

Son of man, do not fear them or their words. Don't be afraid even though their threats surround you like nettles and briers and stinging scorpions. Do not be dismayed by their dark scowls, even though they are rebels.

7 You must give them my messages whether they listen or not."  In spite of everything Ezekiel was able to deliver God's message no matter what came against him.

He hung out with God

Ezekiel 40:2-3 says, "

In a vision from God he took me to the land of Israel and set me down on a very high mountain…

3 As he brought me nearer, I saw a man whose face shone like bronze standing beside a gateway entrance."  Ezekiel spent time with God and God gave him messages for the people.  It wasn't just a one time thing.  He did it routinely.
I hope Zeke grows up to have these traits.  But the thing is, the best way for him to do that is for me to model it.  I can't just have a hope and a prayer that it happens.  I have to be an Ezekiel.  I have to know God's voice.  I have to deliver the message of Christ and His love no matter what.  I have to hang out with Jesus.  If I want Zeke to live up to his name, I need to do the same.
Reading through the book of Ezekiel wasn't actually the disaster I thought it was.  It actually challenged me a lot more than I expected.  Now it is time to set out on my journey to be an Ezekiel.
until next time…