2016 is here so it's that time for everyone to start making all their resolutions.  I've never really been one to do that but last year I decided to mix things up and come up with some.  I was bound and determined to do some things and I failed miserably.  I wasn't even close.  I made it until about April with most of them but then it was game over.  I guess I can blame it on the fact that Zeke was born in late March.  Yeah, let's go with that.  Either way, after bombing 2015's resolutions I will be going back to my normal for 2016.  No resolutions.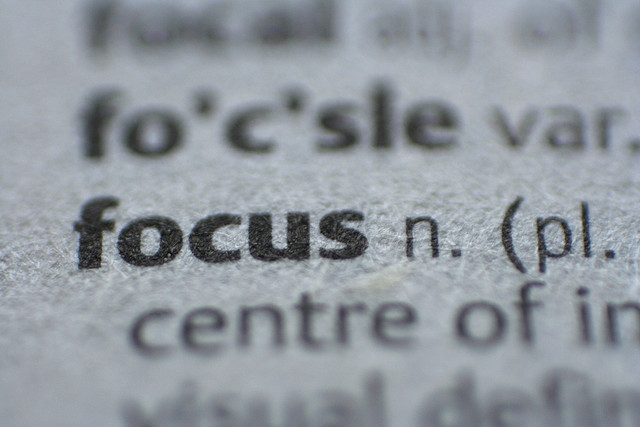 Instead, this year I have decided to just pick a theme word.  Something that can guide me and the decisions I make.  That word is focus.  With such a short attention span this will be a lot of fun.  2016 will be a year to focus on the things that are important and to get rid of things that aren't. There will be some tough choices to make and hopefully I will be able to make them.  We are only 1 day into 2016 and already I am wrestling with some decisions (I pre-watched the workout video I have to do on Monday to learn the moves and it looks like a combination of burpees and death).  I wish all the decisions were as cut and dry as "should I lose weight this year" but unfortunately they are not.
I read a tweet yesterday by Trip Lee (@triplee) that said, "Don't forget that a new year doesn't guarantee a new you.  Growth won't be any easier this year.  We still need grace and grind!"  Such a good kick in the butt for January 1.  I can't go into the new year and expect things to be magically different because it is January 1.  All the habits I had a couple of days ago are still there.  All the temptations that stop me from focusing won't give up because we are in a new year.
So my goal is to focus.  Yes I understand I will have to use some specific strategies to accomplish this, but this year I'm just going to keep it simple.  Stick to something that I can help guide all the decisions I make.  Come January 1, 2017, I hope to have some fruit from that focus.
If you could pick one word to guide your 2016, what would it be?
until next time…
Photo courtesy of ihtatho