I installed a ceiling fan today.  Oh the joys of being an adult.  Angela and I had wanted a fan for our living room for a while.  So I told her that was what I wanted for Father's Day (super cool I know).  I knew our living room was pre-wired for a fan to use a switch on the wall, so I figured there wouldn't be anything to complicated as long as I followed the instructions.  I got the mount installed and connected all the wires.  But I was not ready for what happened next.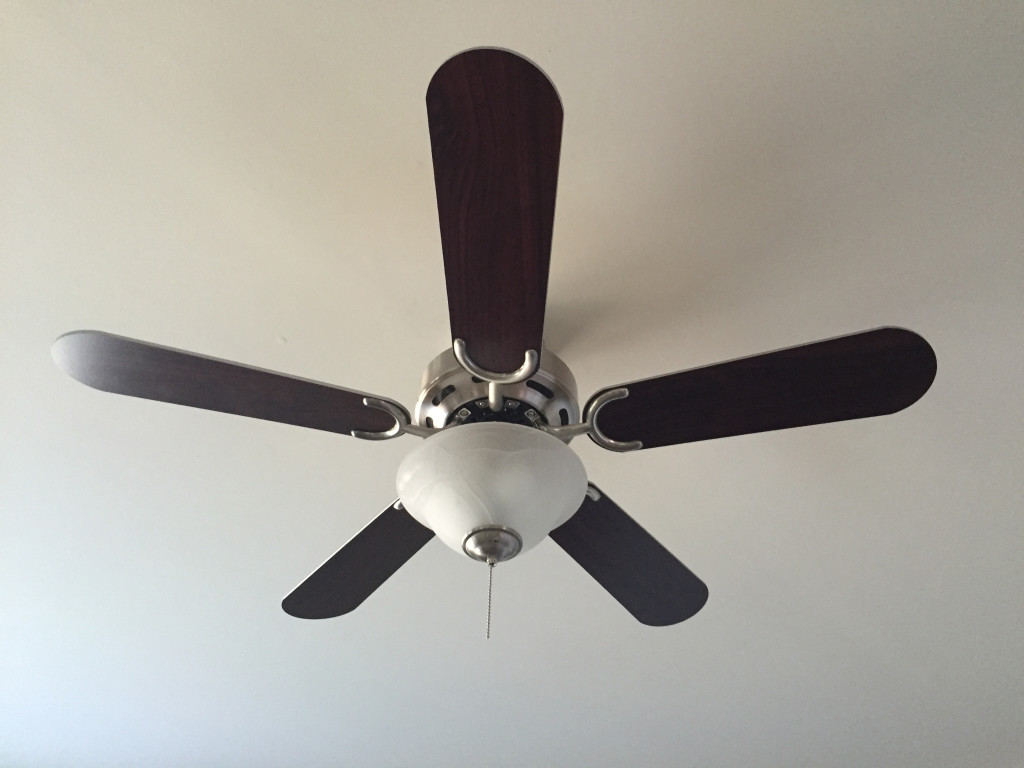 It seemed like it should have been simple.  All I had to do was put all the wires inside the base and then secure the base and motor.  All I had to do was align the two screws, twist the base to lock it in, and then tighten the screws.  That shouldn't take more than a minute at the most.  Ten minutes later and I was still trying to shove the base up into the ceiling so that both screws are in the right place and I can twist it.  I tried loosening the screws.  Eventually I took one completely out.  Then I would get one side lined up and the hole  would be covered on the other side.  I was getting extremely frustrated.  After about ten more minutes I was finally able to get both screws lined up and tightened.  Victory was mine!
The next step was placing a couple more screws to really secure the base.  After that it was a cake walk to the finish line.  I started tightening the screw and it went in about half way and stopped.  You've got to be kidding me!  Victory had been snatched out of my hands.  At this point my frustration turned to anger.  How did they send me a screw that wasn't going to fit?  Especially for such an important piece.  Can't really have a fan that isn't properly mounted to the ceiling.
Determined to just get the screw in all the way (because that is always a great route to go), I grabbed my drill and went at it.  I stopped just shy of completely stripping the screw and had made no progress on tightening it.  At this point I lost it.  I may or may not have yelled a lot, put down my screwdriver in a very forceful way, kicked a medicine ball (which I don't recommend), and stormed into the garage to get another screwdriver that would be able to turn my almost stripped screw.
At some point on my walk back with my new screwdriver I realized that I was letting a fan get the best of me.  I was getting whooped by a ceiling fan.  And I couldn't do anything but shake my head and laugh at myself.  I was acting like an idiot.  I took a couple of deep breaths and ascended the ladder once again.  In my calmer state of mind I found out that if you lined up the screw even a millimeter off it wasn't going in.  I was finally able to get the two screws in and could move on to the next step.
I was able to get the rest of the fan up with no problems and when I cut the breaker back on everything worked like it was supposed to.  Praise God because if I had to take it apart to check the wiring we may not have a ceiling fan.  Even though I eventually finished installing the fan, I'll chalk this one up to a loss.  I'll be better prepared for our next encounter (we also want one in our bedroom) and hopefully will be able to pick up a W.
until next time…