I love going on mission trips, but by the end I am usually ready to come home.  This was definitely the case when I was in Nicaragua.  The trip was amazing, but I was ready to see Angela and Zeke.  Due to our schedule, we arrived at the airport in Managua around midnight and spent the night in the airport.  Our flight from Managua was delayed which caused us to be rerouted and scheduled to arrive home six hours later than planned.  We made it to Miami and when it was time for us to board our plane, there wasn't even one pulled into the gate.  That's a fun way to find out your flight is delayed (thanks American Airlines!).  We only had a 50 minute layover in Philly, so there was no way they were holding our connecting flight for us.  I checked the flight schedules and that was the last flight out for the night.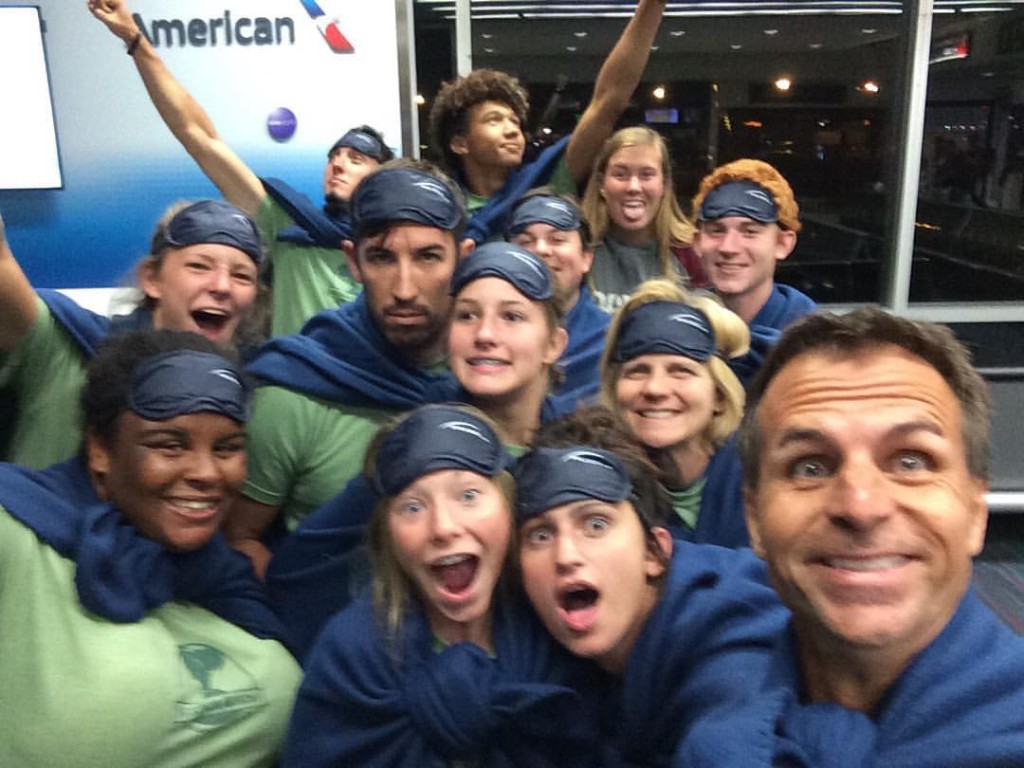 Our team shows up to Philly and at this point most of us have been awake for the better part of 48 hours.  In that time we had hiked up a volcano, sled down it, walked on the beach, swam in the ocean, and sat in lots of airports.  We were exhausted.  The airline attendants let us know that they were not going to give us a hotel, but there were some cots available at gate A1.  Unfortunately, it turns out that gate A1 does not exist in the Philly airport.  To add insult to injury, there were no plans for the cots to come out.  So for the second night in a row we would be sleeping on a cold, hard airport floor.  They were kind enough to give us some blankets, pillows, and essential kits (Brian Regan's stand up bit about essential kits was quoted a lot.).
Everything leading up to this moment had the potential to turn the tide on our trip.  Many people on our team, myself included, were on the verge of a breakdown.  We were tired, cold, hungry, and missing home.  We were supposed to arrive home 6 hours before we got off the plane in Philly, and we were sleeping in an airport again.  It was going to be a long night.
In that moment, Pastor Sean told the team, "Right now we have the choice to make misery or make memories."  I don't think any of us thought so in the moment (probably because we were so tired we didn't want to think), but that statement ended up being one of the most profound of the entire mission trip.
In our exhaustion, we decided to tie our blankets around our necks like capes and put on our sleeping masks like a superhero mask.  Our trek to find food then became a huge adventure filled with doing lots of silly things (if you have never spun between two moving sidewalks you absolutely need to give it a try).  Everywhere we could find to do something superhero-ish we would stop and get videos and pictures.  I laughed harder than I had in a long time.  You can go HERE to check out pictures of all our shenanigans.
What had the potential to be the worst part of the trip quickly became my favorite part.  You would never think that getting stranded in an airport and arriving home a day late would become the best part of a trip, but it was for our team.  We chose to take an awful situation and make something amazing from it.  We weren't going to let our circumstances define how we felt.  We weren't going to let them dictate what happened.  When I think back to my trip to Nicaragua, the night in the Philly airport will be one of the first things I think of.  Instead of misery, we made memories that will be with me forever.
The next time life tries to throw some stuff at me I'll remember my time in the Philly airport.  I'll remember that in that moment I can make misery or make memories.
until next time…