You may or may not be aware, but this app called Periscope is taking the world by storm.  As I predicted, it crushed Meerkat (an app that is similar to it).  Periscope is an app that lets you live stream whatever you are doing.  You press go and it turns on your camera and starts broadcasting whatever you are shooting.  People can watch and comment live.  Knowing I am working on getting into the public speaking world, I immediately created an account and planned on being an early adopter.  I downloaded the app while I was in the hospital when Zeke was born.  Since then I have done about 3 broadcasts.  So much for using it and really jumping in and being an early adopter (although I did have an account and did predict it would blow up so maybe that counts).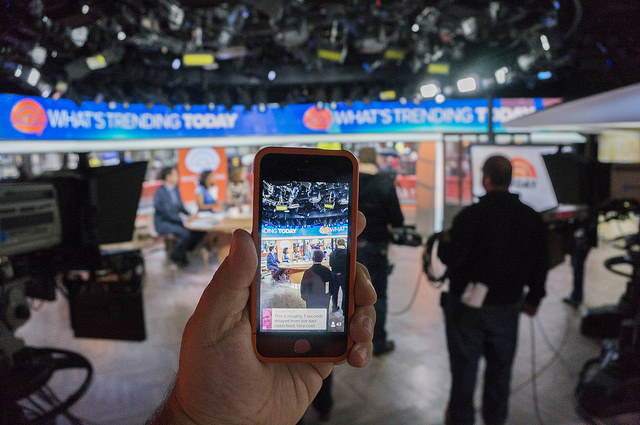 So what is keeping me from using Periscope like I know I should be?  I'm scared.  I've heard all about the horror stories of people who have used it and I'm letting that get in the way of me jumping in.  One week in my mastermind group, Heather and I decided to make it a goal that we would both broadcast a scope (what the cool kids are calling a Periscope broadcast these days) by the end of the week.  So I did my broadcast and bombed at what I wanted to say so now anytime I think of getting back on that is what pops in my mind.  It has been a few months since I did that and I'm still letting it hold me back.
I know that seems silly.  OK, I'm letting myself of easy with that statement, it seems stupid that I let that happen.  When I get up in front of a group of people to speak, I am full on confidence.  I do a great job (or so I'm told).  I've spoken to large groups of teenagers.  I've led trainings for over 100 employees.  I've given a presentation to the Regional Vice Presidents of the YMCA of the Triangle.  I crushed them all.  But the thought of getting on Periscope gets me so nervous that I avoid it.
Heather had the exact opposite reaction as I did.  She had some rough experiences in her first few scopes.  She had some people leaving obnoxious comments and wasn't sure anyone was listening to what she had to say.  But she bit the bullet and kept going.  Since then she has grown completely comfortable and scopes on a daily basis.  She has gained quite the following.
When faced with fear you have two choices, cower and hide or kick it in the face.  I chose the former and Heather chose the latter.  Clearly you can see the impact our decisions have made.  She is rocking and rolling on Periscope and growing her following and I've done nothing.
So today I am going to change that and start kicking fear in the face.  I am going to scope on my walk to work.  Why am I telling you that in the post?  If it is on here, I can't back out.  So join Periscope and join in and leave me some comments and hearts (their version of the Facebook like).  While you are at it you should check out Heather.  You can find her at @heatherparady on Periscope and at HeatherParady.com
until next time…
Photo courtesy of Anthony Quintano