Music is a huge part of my life.  I am constantly listening to it or playing it.  If one of those two isn't an option then I have a song in my head.  I am the guy who is singing at the top of my lungs in the car (until I stop at a light).  I've actually developed a system when to resume singing after stopping at a light.  There are a lot of variables like time of day, number of cars at the lights and number of lanes to name a few.  Another thing I do is associate music with memories.  I love going back and listening to albums that I got when I was in high school and college because they bring back some awesome memories.  So for fun I thought I would run through my top 5 nostalgic albums.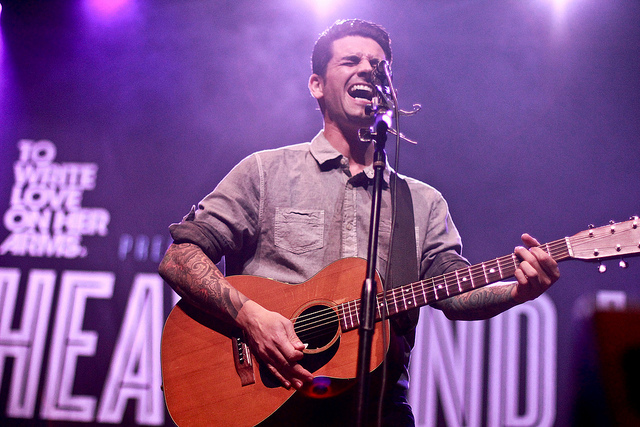 5.  Weezer – The Blue Album
This album is great in so many ways and I will always remember it as the album of the summer for 2005.  I was working at Teen Valley Ranch and this album was played way too many times as we rode around on the weekends.  There were lots of heated debates over the best song on the album.  There were many times someone would put in the CD and we would start to say change it, but by the end of the first song be singing along.
4. Kids in the Way – Apparitions of Melody
Not only is this CD amazing, but they band were actually really cool guys.  One night after playing a show at a church in Raleigh, a group of us were playing basketball with them in the church gym.  When the church kicked us out, we told them we were considering making the drive to Wilmington the next night for their show.  They told us if we did they would put us on the guest list.  The next day we made the drive and hung out with them back stage.  It was there I learned how to play an awesome pool table game called Dork.  It also started some friend ships that turned into lots of hanging out a shows, IHOPs, and Waffle Houses anytime they were in NC.
3. Underoath – They're Only Chasing Safety
I really could pick any screamo/hardcore band from this time period (Beloved, Norma Jean, Emery, just to name a few) and it would bring back memories of early college.  My friends and I would find any show we could go to and go.  We would make a trip from Raleigh to Charlotte on a Friday afternoon to go to a show and drive back that night after it was over.  I spent a lot of time at the Tremont Music Hall in Charlotte.  Lots of late night trips to Waffle House (and we all know that hash browns smothered and covered is the way to go).
2. Dashboard Confessional – The Places You Have Come To Fear The Most
If you are ever feeling down, this is not the album to listen to.  Back in my writing depressing poetry days, it used to be one of my go to albums when I needed inspiration to write a poem.  But the memories that this CD brings back are mostly of the live shows.  They were so much fun.  Especially the songs when Chris would be on stage by himself with just an acoustic guitar.  It was like a giant sing-a-long.
1. The Get Up Kids – Something to Write Home About
This is possibly my favorite album of all time.  I don't really know where to start with this one.  I'll Catch You may be my favorite song.  I have many great memories associated with it.  One of my favorite would have to be my friend Joel and I coming up with pantomime to all the lyrics on the CD while riding in the back seat of a car on a road trip.  Everyone else thought we would only be investing for a song, maybe two, but no we were committed for the entire album.
Honorable Mention – Squad Five-O – Bombs Over Broadway
So these stories probably don't mean much to you unless you were a part of them, but I'm sure you can think of an album that you have fond memories of.  Sometimes it's fun to let your mind go back to those times.  I love that I associate memories with music because it is a way to help me not forget.  A lot of my friends from these times have moved on to different places, but the memories are always something we will share.  I love that when I listen to these CDs not only am I hearing great music, but I am thinking about great times.
What album brings back fond memories for you?
until next time…
Photo courtesy of Melanie Levi