I've had my flight to Chicago booked for a few weeks.  That took no time at all.  I pulled up expedia.com, put in when and where I wanted to fly and was able to find a cheap ticket.  Then came the fun ordeal of figuring out how I would get from the airport to the venue.  The venue is a few hours away and when I first looked at rental car prices they were more expensive than my plane ticket.  Also there are no rental car places in Kewanee, IL so I wouldn't be able to drop off the car in the town I am going to.  I was too far from the venue for them to send someone to come get me and the airport wasn't on route for the tour bus.  So I began the tedious process of checking all my options to see how I could get there.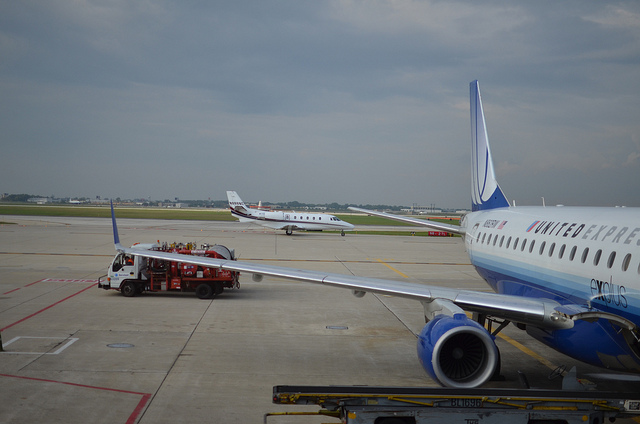 I checked out Amtrak to see if I could hop on a train and get to the venue.  Amtrak had a route with a stop in the town I needed to get to so I was pretty excited.  I looked up how much it would cost and it was only $18.  This was almost too good to be true!  It was.  The train left 30 minutes before my flight would land.  The next one heading that way didn't leave until 5:00pm.  Train was out, maybe a bus would get me there.
After searching and discovering the locations of lots of towns in Illinois, I concluded that a bus would not be an option.  But in the process of searching all the bus companies I came across a private shuttle that had a stop 20 minutes away from Kewanee.  The problem was it didn't leave the airport until 2:00pm.  I saw they offered private shuttles so I decided to call to see how much it would be.  Turns out it was over $300 (and that low price even included gratuity!!) so that was definitely not an option.
While I had them on the phone I asked if there was a chance the shuttle could be leaving early.  I was hopeful that maybe I would be the only one booking that day.  They told me there was a chance it could leave early, but not before 11:30am.  Frustrated and tired of looking around (which at this point had been hours over the course of a couple of days), I went back to looking at rental cars.
I really didn't want this option because it meant after Saturday's show I would have to drive the car about 50 minutes to get dropped off and have the tour bus meet me there to pick me up.  So now I had to search for car rental places in Peoria, IL that were right off an interstate exit.  Thank God that Peoria has an Enterprise located 0.9 miles from an interstate exit.  As I went back to book a rental car, I was happy to see that the price had dropped significantly.
During this whole process, as I was praying and asking God to work something out, He reminded me of 1 Thessalonians 5:16-18.  It says, "16 Always be joyful. 17 Never stop praying. 18 Be thankful in all circumstances, for this is God's will for you who belong to Christ Jesus."  It is one of the scriptures I had my students recite for our school's Thanksgiving program.  But man is that a tough one to follow.  Through the process of trying to figure out how to get to the venue I wasn't very joyful and I certainly wasn't thankful.

But after I finally reserved a rental car I realized all the frustration wasn't worth it.  Sure renting a car wouldn't have been my preferred method but it's going to be just fine.  I'll get there tomorrow and I'll have a blast.  I also realized that if I ever travel to Kewanee, IL again I will fly into a different airport.  I didn't do my homework very well on that part.
until next time…
Photo courtesy of Michael Kappel