September 15, 2012 is the day that Angela and I decided to take our vows and commit to live our lives as one.  It is a day we will never forget, and we wanted it to be also be memorable for those who joined us.  Not because we are awesome, but because we wanted it to be something they thoroughly enjoyed.  A wedding should be a happy occasion.  It is something that everyone should remember as a good time, not just the bride and groom.  It was a celebration and we wanted people to celebrate.  If people were going to travel from all over to spend this day with us, we wanted them to get their money's worth.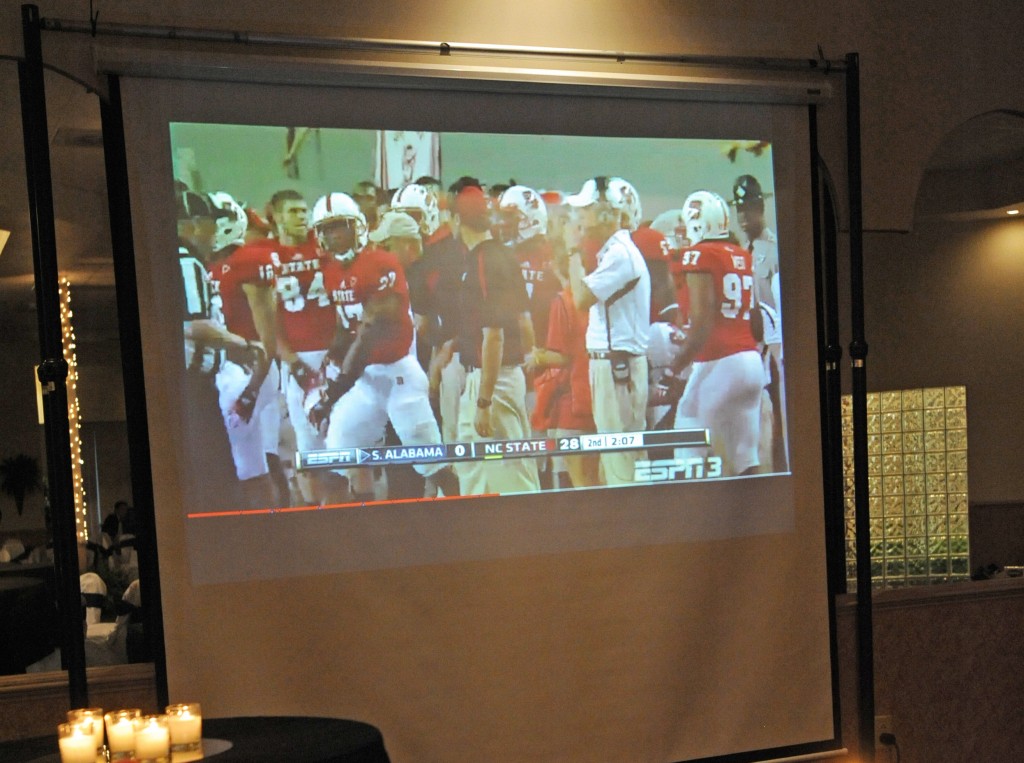 In celebration of our 3-year anniversary I am writing a 3-part series about our wedding day and lessons from it I use to chase my dreams.  I've already told you about how we had our pre-service video to keep people entertained as they sat and waiting for the ceremony to start.  We were able to take something ordinary and make it extraordinary.  The next thing we decided to do was to ignore all the haters that didn't agree with decision we made.  This part isn't always easy, but is something we had to learn to do.
I picked Angela and my wedding date before I had proposed to her (yes me the male picked the wedding date).  Her dad and I tentatively put it on Westwood's church calendar because they tend to book up early and we didn't want to lose the date.  I strategically picked the date based on NC State's football schedule.  They would have a home game that day, but it was against South Alabama and would not be a high-profile game.  Now before I get haters for leaking this information, when I proposed to Angela I did make sure she was fine with the date.
We decided that we wanted to show the NC State game at our reception.  There were people who thought we were crazy for wanting to do this.  We were told that it would take the focus off us and the day was supposed to be all about us.  We had 2 responses to that.  We didn't care if the focus was taken of us and we wanted to see the State game.  If we weren't getting married that day there was a good chance we would have been at the game.  Many of our friends that were coming to the wedding would have also been at the game.  To thank them for their sacrifice, we wanted to make sure they didn't miss the game completely.
People pushed back, but it didn't stop us.  We showed the NC State game at our reception and it was a huge hit.  Many of our friends thanked us for showing the game.  It is something people still talk about when talking about our wedding.
When it comes to chasing my dreams, I know I will always have haters.  There will always be people who don't like what I am doing.  And I will let them hate.  My confidence is in God and it won't be swayed by something not liking what I am doing.  It is something I have seen time and time again as I have taken steps towards the things to which God has called me.   No matter what you are doing, if you are going after the things God has for you there will be haters.  Now there is a difference between people who are offering constructive criticism and solid advice.  The difference is usually love.  There should always be people you can turn to that will give you honest, raw advice.  They are not the people I am talking about.  There will be people that want to see you fail.  There will be people that never like what you are doing.  And those people don't deserve your time.
Part 3 is coming soon and I will wrap up this series talking about legacies.
until next time…