If there is one thing people know how to do in December it is to party.  There is no shortage of Christmas parties for one to attend.  Everyone is picking out their ugly sweaters and figuring out how to make it as tacky as possible.  This week I am attending 4 parties (one of which I am hosting).  Being a social person, I love attending Christmas parties.  I also love to eat.  I am also now in week 7 of the T25 workout program and on the road to being at my goal weight for this first time in years.  This means the month of December turns into a war for me.  Of course people bring out their best recipes when it comes to Christmas parties.  It's great for my taste buds but not so great if I don't want to look like Santa.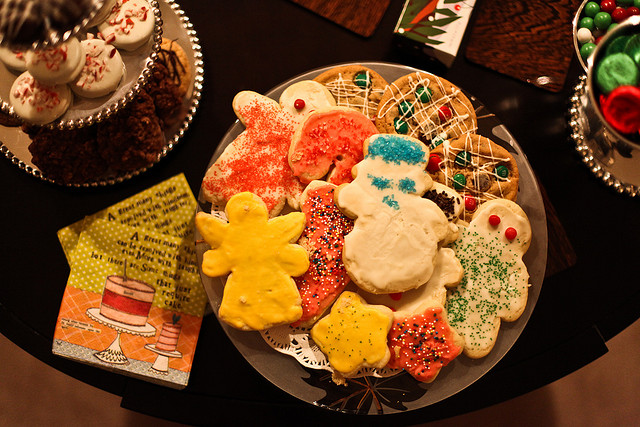 Of course all of this comes just 3 weeks after Thanksgiving.  'Tis the season for the never-ending food coma.  It will all culminate with going to my grandparents on Christmas Day who always seem to have a never-ending food supply.  Any other day of the year my family treats Bagel Bites like any other food, but on Christmas it's like someone set down a plate of gold bars.  So much food.  So much temptation.  And every year I just end up giving in.  Just tell myself I'll work it out (or just work out) in January.  But most years I haven't spent the past 2 months working hard to get back in shape.  So now I am a pickle.  If I go my usual route I will just undo everything I have worked hard for.
This year I will have to work crazy hard to stay in control.  It is going to mean saying no to some really good food.  Just thinking about that sounds like torture.  And it's not like I get to ease into it.  Like I said earlier, I have 4 parties this week!  I'll be running full force into it.  I'll also have to stay diligent to stick to my current workout plan, which will include working out on Christmas Eve and Christmas day.  Seems a little crazy but I want to do what it takes.
I hope this Christmas season I can break my bad habit of eating way too much food.  I'm not 100% sure I'll be successful but I am going to try really hard.  There will be no hiding from the scale so I hope I don't blow it.
My friend Jenny (from insideoutglamour.com) is super into being healthy and she has allowed me to give a few more of my thoughts about this (including my 3 tips on how I am doing this) on her blog.  You can check out the video HERE.
until next time…
Photo courtesy of Bill Couch